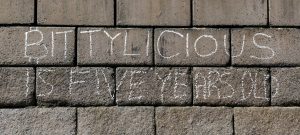 Today, on Bitcoin Pizza Day, Bittylicious celebrates its fifth birthday since incorporation way back in 2013.
It has been, by far, the busiest year in Bittylicious's history and is the year that Bittylicious really took off from the geeky underground and made it mainstream.
Thank you!
We owe our success to those who have introduced Bittylicious to friends and family via word of mouth and personal recommendations. From the outset, we have worked hard getting ourselves known in the local communities, specific forums and generally being Good Guys, and this groundwork has resulted in Bittylicious now being the go to place for many users.
It goes without saying that we couldn't have done it without the amazing work our brokers perform, offering world class support, speedy delivery of coins and great prices. These guys work hard and it's hugely appreciated every time a user reports positive feedback with our brokers.
And none of this would have been possible without our excellent staff who were willing to put in the extra help when things were silly busy (December 2017, anyone?) and the many trusted people who assisted with profile verification during these peak periods.
What have we achieved?
Here are some of the highlights from the last year.
Summer 2017
The summer of 2017 saw us publicly support the UASF project which ultimately resulted in SegWit being finally implemented and the future of Bitcoin looking much brighter. We fully ran a UASF node until SegWit was locked in (at which point it was unnecessary). One of our proudest moments.
Winter 2017
Bitcoin Cash was integrated in November 2017 owing to user demand, available for bank transfer and card sales.
We have an intimate Q&A session at New River Studios in Dalston, London, mainly with an aim to spread the word about cryptocurrencies. The price hit $10,000 that night. Coincidence?
December 2017 happened. An absolutely insane month at Bittylicious where on one day, over £1.4 million was traded. We did better than many others, with verifications taking 72 hours at its absolute worst. We did not turn away any signups.
Q1 2018
Bittylicious signed a deal to display advertising against Rugby League and Cricket ODE and T/Twenty matches. You will be able to see us on pitchside banners until the end of summer.
The integration with ihavebeenpwned was completed in February to protect users from insecure passwords.
Throughout 2018, Bittylicious integrated with new credit card providers for resilience and we also negotiated cuts in prices in March.
SegWit became fully supported with the release of Bitcoin Core 0.16, including full bech32 addresses.
Q2 2018
Bittylicious launched (softly) in Australia in April and now serves Australian users 24/7.
In April, Bittylicious reached 1,000 reviews on TrustPilot with a 9.5 rating. Customer support is key and is the basis of our entire company.
And in general over the last year
The media has been good to us – we have been featured and had interviews on BBC Radio Sheffield, BBC News 24, Financial Times, BBC Radio 4 (Moneybox), The Telegraph, The Metro, The Guardian, iNews, Soho Radio and Evening Standard.
Four cryptocurrencies were integrated into Bittylicious and available for credit card sales – DigiByte, Groestlcoin, Bitcoin Cash and Vertcoin.
Statistics
And our vital statistics for the last year, 22nd May 2017 – 21st May 2018:
220,000

trades completed.
£99 million traded.
67,000 new user sign ups.
150,000 pieces of documentation verified.
Going forwards
It's near impossible to plan for the long term in the cryptocurrency world, but in the next year, we will hopefully give Bittylicious a long overdue facelift, integrate more coins, offer more payment methods and generally make Bittylicious better and better.
Thank you once again to all our lovely customers and please continue spreading the word!
Marc
CEO, Bittylicious