Bittylicious Brokers are the Nicest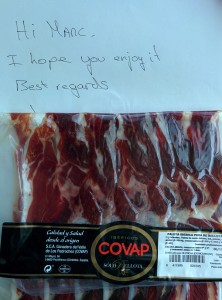 Bittylicious users often enjoy pretty good rates, exceptionally quick purchases and brilliant customer service, but we would just like to toot our own trumpets a little by saying just how darned well nice the brokers on the platform are.
The main admin (Marc) helped out one of the brokers who was having issues with their bank account being frozen. Marc wrote a letter to the bank stating that his transactions were legitimate. In part because of this, the broker's bank account was made available again. As a wonderful gesture of thanks, this broker sent Marc some lovely jamón brought all the way back from Spain. Yum!
Sometimes issues happen, often caused by external services such as banks. The first line of support is the brokers, who pass issues up the chain if needed. These are the guys and girls that keep the Bittylicious platform running so well, and they're a really decent bunch of people. Bravo!